A large area of the Basirhat Municipality in West Bengal has been suffering urban flooding since the last two decades due to rapid urban growth and poor drainage systems. It has severely degraded the quality of life of the local residents.
Basirhat Municipality has a strong historical background. Basirhat city is under Basirhat Municipality, North 24 Parganas, West Bengal, India. It is near the India-Bangladesh border and the river Ichamati, runs through the city.
Experts have identified that siltation has disturbed the flow of the Ichamati and for this reason, during rainy season, floods occur in region. The municipality encompasses 23 wards and stretches to 22.5 sq km.
With the support and guidance of the Elrha Humanitarian Innovation Fund, our study team (comprising Prayukti International Pvt Ltd, Professional Institute for Development and Socio Environmental Management (PRISM), Institute of Remote Sciences (IRS), Jahangirnagar University, Bangladesh, and Naireeta Services Pvt Ltd) has selected a pilot project area (Daspara and Mathpara, Ward No. 14 of Basirhat Municipality) to battle against urban flooding and climate change.
PROBLEM STATEMENT
During the baseline study, the team found that underground sewage systems in the area are yet to be developed and latrines such as septic tanks and two-pit systems are not observed in the locality.
Further, natural drainage systems are destroyed because of unscientific infrastructural developmental activities.
In the present day, the major part of the locality uses ground water as a source of drinking water. The team has also highlighted the poor planning of solid waste management in Ward No. 14. Moreover, the team has documented that inundation is the key issue in this area.
Every year, after rainfall, locals have suffered from urban flooding—water logging for more than 7 months in a year.
Because of urban flooding, residents are being exposed to vector borne and skin diseases, stomach problems, etc. It has also adversely impacted education and livelihoods in the locality.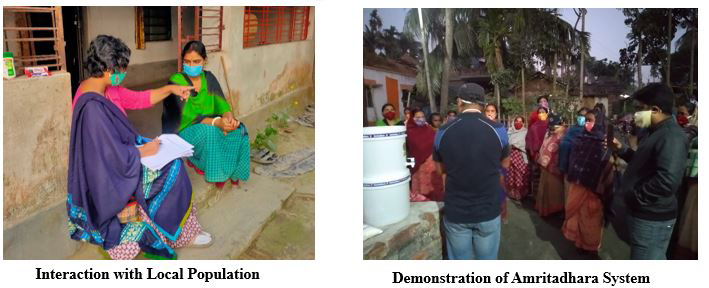 ACTIVITY DETAILS
As per the baseline study, the poor, marginalised and vulnerable people of this locality are deprived of drinking water.
In the pilot project area, the study team has primarily dealt with 86 households. Almost 48% of total residents stay in brick houses but toilets are not being used properly.
Also, there is no drainage system to support the domestic waste water system. There is a habit to not follow the global standards of solid waste management system.
The team has conducted several workshops and campaigns to promote strategies to prevent water-logging and promote Covid-19 protection mechanisms.
Following a zero cost model, the team has distributed a low-cost user friendly water purification system, known as Amritadhara, among the 86 families through participatory method as a basic mitigation step.
In addition, the team has distributed masks and sanitisers to the locals.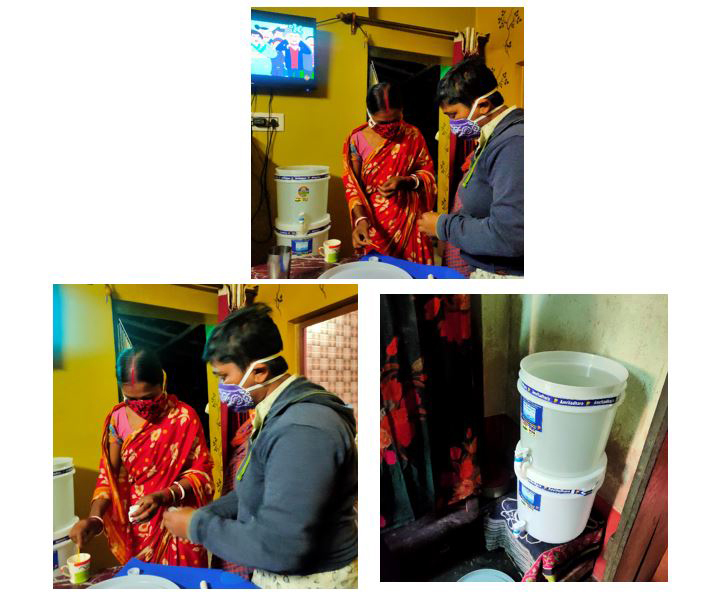 Installation and training on how to use the low-cost, user friendly water purification system, Amritadhara
KEY HIGHLIGHTS OF AMRITADHARA
It creates drinking water from poor quality water.
It is user-friendly.
It's affordable as the cost comes to Rs 0.015 per litre of safe drinking water.
Dependence on energy, skilled people, accessories are eliminated.
Provides social entrepreneurship opportunities for the unemployed.
Follows WHO recommended Household Water Treatment & Safe Storage (HWTS) standards.
Has potential to change behavioural pattern(s) of maintaining personal hygiene among people.
TRANSFORMATION
Before implementation, water scarcity was a burning issue and during rainy season, municipal handpumps were overflowing with flood water.
Key impacts for transforming this peri-urban society are as follows:
Previously, it took a long time to collect drinking water from handpumps. Amritadhara has solved this problem.
The team has executed knowledge transfer and initiated water entrepreneurship models for the women members of the community.
The team has inspired locals to upgrade the natural channels, so that the flood water can flow towards the Ichamati. Interestingly, some people have voluntarily taken part in this project and have also donated their lands, free of cost, for this cause.
Amritadhara can be produced locally by providing the required skills to the concerned stakeholders. Local women have been trained on the maintenance and making of this low-cost water purifier. It is a good socio-economic business model for residents who have lost their jobs due to Covid-19.
Earlier, the usual practice of locals was to use ground water as drinking water. But Amritadhara has solved this problem. Now, they are availing water for drinking and household activities either from stored rainwater or from other water sources.
CONCLUSION
The affected community has appealed to the project team to initiate the next phase of the project. The plan for the next phase, in a nutshell, is:
Scaling of Household/Community Level purification system.
Feasibility analysis of various mitigation options, such as:
a] Contour-planning and bunding.
b] Groundwater recharge using 'Bhungroo', a rain water harvesting technology.
Utilising abandoned borewells for water recharging.
Review and assessment of policy issues.
Development of a decision support tool for intervention, depending on the root causes and magnitude of waterlogging, as well as, area characteristics.
We are geared to resume our sustainable endeavours to come up with long-term reliable solutions for the citizens of Basirhat Municipality, by permanently eliminating urban flooding related hazards.
By Rangeet Mitra, Senior Consultant, Prayukti International
Reference: https://www.pureecoindia.in/success-story-of-a-peri-urban-community-affected-by-unscientific-urban-development-in-west-bengal/